NTT DATA INSTITUTE OF MANAGEMENT CONSULTING, Inc. is supporting NTT DATA to join as a member of Asian Payment Network (APN)
Back ground
NTT DATA INSTITUTE OF MANAGEMENT CONSULTING, Inc. is conducting research and study activities about advanced global financial and capital market trends, and also practical consulting activities such as infrastructure exports of payment systems. Meanwhile, we have been presenting our recommendations to the various market players against a background that cross-border retail payment systems have been definitely developing under the high economic growth in emerging countries.

Therefore we convinced that we decided to apply and join APN in order to establish payment networks in Asian region, and we have been supporting enlightenment activities and taking an important role such as the development of cooperative relations with Authorities, Central Bank, financial institutions, bankers association and NTT DATA, and also the negotiation with multilateral providers of and APN members.
Future prospects
NTT DATA INSTITUTE OF MANAGEMENT CONSULTING, Inc. is contributing to facilitate and promote the interoperability between multilateral financial institutions with industry-wide prospects.


 NTT DATA INSTITUTE OF MANAGEMENT CONSULTING, Inc.
 Corporate Planning Div.
 Tel : +81-3-5213-4016
  E-mail:webmaster@keieiken.co.jp

We make the following presentation with NTT DATA.


Jan. 8, 2014
NTT DATA Becomes First Japanese Company to Join Asian Payment Network
- The company will participate in a project to standardize payment systems, part of an effort to create a common settlement platform within the Asia-Pacific region. -
NTT DATA Corporation
NTT DATA INSTITUTE OF MANAGEMENT CONSULTING, Inc.
NTT DATA Corp. has been admitted to the Asian Payment Network (APN) as a member, becoming the first Japanese company to join the organization, which was established to create a common payment settlement platform within the Asia-Pacific region. NTT DATA will cooperate with other members of the APN and consider the launch of Asian retail settlement operations.
Background
APN was formed in 2006 with the leadership of the central banks of leading ASEAN nations (Singapore, Malaysia, Indonesia, and Thailand) with a view to establishing a new retail settlement network in Asia. The network, which currently has 12 companies in 10 nations, is seeking to create a new retail settlement mechanism for each participating nation.

NTT DATA and NTT DATA INSTITUTE OF MANAGEMENT CONSULTING, Inc. (Head Office: Chiyoda-ku, Tokyo; President: Mitsuru Toyoda), has been considering joining the APN as Japanese companies and banks expand their operations in Asia. NTT DATA believes that demand for retail settlement services will continue to increase in the region.

The Panel for Vitalizing Financial and Capital Markets, a committee created by the Financial Services Agency and the Ministry of Finance, on December 13 released its recommendations for stimulating the country's financial and capital markets. In the report, the committee urges the government to encourage Japanese companies to join cross-border ATM networks in Asia. NTT DATA's participation in the APN is likely to promote cooperation between Japanese banks and their counterparts in other nations. NTT DATA, drawing on its network settlement knowhow acquired after years of operations in Japan, plans work with Japanese banks to propose a new retail settlement mechanism for Asia.


Advantages of NTT DATA's APN membership
Japanese banks will be connected online with other APN member banks in Asia through a new mechanism that NTT DATA plans to develop in 2014. The system will allow tourists from other countries in the Asia-Pacific region to withdraw money in Japan. They will also be able to use their local cards for shopping in a similar way like international scheme cards can use their cards to make purchases in Japan. At the same time, Japanese tourists will also be able to withdraw money in local currencies when they visit participating member nations.With the participation of NTT DATA as a member of APN, NTT DATA will forge closer ties with these rapidly growing economy through our mutual acceptance of electronic cards, leading to greater and more cost effective cross-border transactions.
Figure: APN Settlement System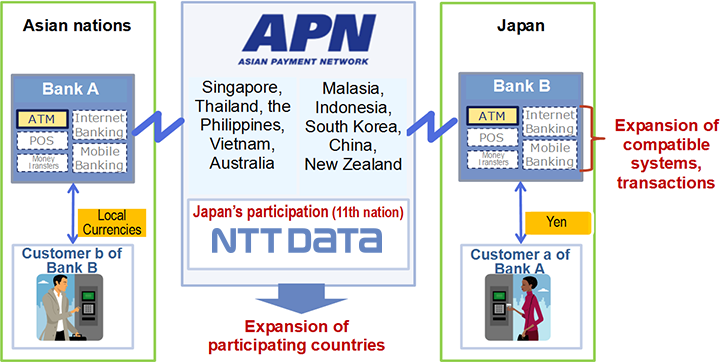 View large image

Future Plan
NTT DATA will draw on its experience with the CAFIS settlement network*1 and the Integrated ATM Switching Service*2 to actively participate in the APN's program to create a common platform. Japan is likely to make its presence felt in the retail settlement business in Asia as a result. NTT DATA will cooperate with Japanese banks to develop a new system and provide it to other APN members.


Reference
Asian Payment Network(APN)
APN was established in 2006 with the leadership of the central banks of leading ASEAN nations (Indonesia,Malaysia,Singapore and Thailand) with a view to creating a regional cross-border transaction network in Asia. Non-ASEAN nations (South Korea, China, Australia, and New Zealand) joined the network since 2010. Currently, the network has expanded to 10 nations including The Philippines and Vietnam.

APN is working on standardizing ATM services (such as cash withdrawals, balance enquiry, POS, and remittances). The organization is seeking to apply the system to debit and credit cards,money transfers, and mobile banking services.


APN Settlement System(Countries)
  * As of the end of September 2013
Network for Electronic Transfers (Singapore) Pte Ltd (NETS) (Singapore)
Malaysian Electronic Payment System Sdn Bhd (MEPS) (Malaysia)
Malaysian Electronic Clearing Corporation Sdn Bhd (MyClear) (Malaysia)
National ITMX Co., Ltd. (ITMX) (Thailand)
PT. Artajasa Pembayaran Elektronis (Indonesia)
PT. RINTIS SEJAHTERA (Indonesia)
MegaLink, Inc. (The Philippines)
Korea Financial Telecommunications & Clearings Institute (KFTC) (South Korea)
The Vietnam National Financial Switching Joint-Stock Company (Banknetvn) (Vietnam)
China UnionPay (China)
Strategic Payments Services Pty Ltd (Australia)
Paymark Ltd (New Zealand)




*1 CAFIS :
CAFIS is a credit and finance information system operated by NTT DATA. The system acts as an intermediary of online transactions among credit card companies, banks, companies, and member stores as they exchange credit information (such as credit history, sales data, etc.) and other financial data. The service, which began in February 1984, is the biggest settlement platform in Japan with more than 400 million monthly transactions.

*2 Integrated ATM Switching Service :
NTT DATA operates an intermediary service that connects cash dispensers and ATMs belonging to more than 1,300 financial institutions. The system, which enables online transactions (such as cash withdrawals, balance confirmation, cash deposits, etc.), began in January 2004. In addition to providing an online transactions platform, the system provides daily settlement data using a multilateral netting method.

* CAFIS is a registered trademark in Japan for NTT DATA.

* Names of other products, companies, and organizations are also trademarks or registered trademarks. They don't belong to NTT DATA.

---
For more information, please contact:

Media Enquiries :
Public Relations Department
NTT DATA Corporation
Tel : +81-3-5546-8051
Products and Services Enquiries :
NTT DATA Corporation
First Financial Sector Card and Payments Services Division
Sales Section Solution Sales Group
Toyohiro Kitada
Business Development Group
Soh Kimura,Hiroyuki Kanno
Global Business Development Group
Shinichirou Nishikawa
E-mail: apn_qa@kits.nttdata.co.jp

NTT DATA INSTITUTE OF MANAGEMENT CONSULTING, Inc.
Global Consulting Div.
Akira Yamagami, Tomomi Terashima, Ryoji Wakasugi
Tel : +81-3-5213-4250